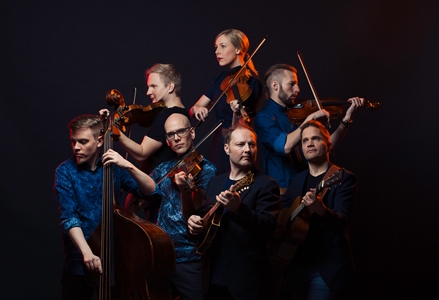 Seven member group of instrumentalists world famous for their originality
The band flies, in a mix of traditional and their own tunes, all shapely, ingenious and delivered with acute mastery and massive swing and energy.

Four fiddlers, double bass player, mandolinist and the guitarist - Frigg has been conquering the world with a fusion of western folk music styles leaning strongly towards Nordic folk music, for which the world music media has coined the term nordgrass, referring to the bluegrass influences of the group. The tight interplay of four violins, string instruments and contrabass, fine-tuned to perfection and spiced with sparkling, humorous live-energy has made an impact on listeners all over the world.
Their last album Frost On Fiddles proved that they belong to the best bands of world music.
Photo: Tero Ahonen.