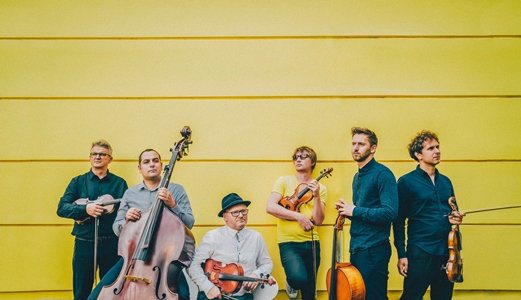 FÉLIX
LAJKÓ
&
VOŁOSI
(Hungary/Poland)
FIDDLER MAGICIANS WHO ARE TRYING TO DISCOVER THE DEEPEST LAYERS OF HUMAN SOUL, THE PLACE WHERE ONLY MUSIC CAN REACH
It might seem a bit unfair to the audience: during the last concerts of the 21st century Paganini and a Polish quintet the audience could hardly catch their breath; so should they stay breathless now? You might be wondering why those five outstanding fast fiddlers need another one, but this is not the right question to be asked. The right question is: how come that no one else has come up with the same idea before?
Lajko has performed and recorded with free jazz pianist György Szabados, he has played chamber music with a Serbian saxophonist Boris Kovač and avant-garde music with a Romanian fiddler Alexander Balanescu; he appeared as a guest with the French rock band Noir Désir.
Vołosi: two musicians with classical education and three folk musicians perform traditional music from the Polish side of the Silesian Beskydy mountains, however they want to introduce this music as a sparkling modern tradition. Combining these two different musical areas Vołosi create their magnificent performance with their characteristic piece of brilliant improvisation, which is also typical for Félix Lajkó. Together they bring a concert between "melancholy and trance", a self-control and an unlimited freedom of a performer.

Photos: Erdelyi Gabor