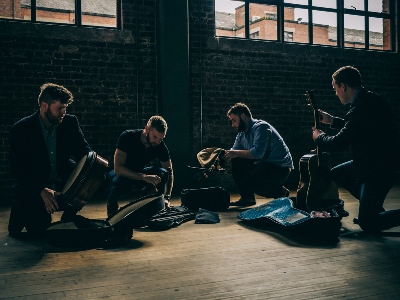 SCOTTISH INSTRUMENTAL BREEZE AND A STORM IN ONE
A FIDDLE, PIPES, BODHRAN, ASTONISHING MELODIES AND RIVETING RHYTHMS. BRIEFLY SUMMARIZED: ONE OF THE MOST EXCITING BANDS ON THE SCOTTISH FOLK SCENE.
Jack Smedley (fiddle), Steven Blake (pipes, whistle), Adam Brown (guitar), David Foley (bodhran, flute) and Adam Holmes studied Royal Academy of Music in Glasgow and when they first performed together as a band they chose the name RURA suggested by their friend. Later on they found out that it means chaos in Gaelic, pipes in Polish and it is also the name of one city of India. Since then, RURA's powerful, entrancing instrumentals have been a main stage highlight of many of the world's leading folk festivals across more than twenty countries. They are as well winners of a number of awards including BBC Folk Award nomination.