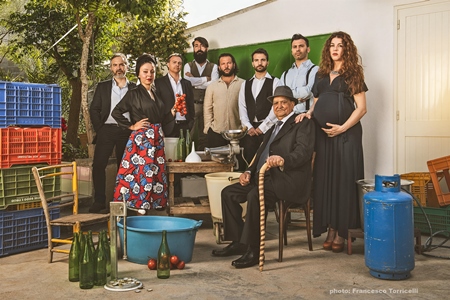 CANZONIERE
GRECANICO
SALENTINO
(Italy)
&
PIERS
FACCINI
j.h.
(Great
Britain)
World famous performers of a contemporary style of South Italian region of Salento traditional Pizzica music and dance
Tarantism, an ancient therapy ritual, which includes music and dance, was only practised in the region of Salento. It included the trance dance pizzica and it was used till the 50s of the last century. Howeve, then the doctors came and tarantism seemed to vanish. When Marco Durante became the band leader after his father in 2007, he set the aim: to protect this unique style from Salento and to introduce this musical tradition worldwide. He changed the band into the instrumental-vocal tornado with a beautiful Salento dancer Silvia Perrone and a singer Alessia Tondo.
Canzoniere bring to Folk holidays their new successful album, which is introduced by "Pop Goes the Pizzica". In cooperation with American composers Marco Durante and Canzionere transformed pizzica into a modern dimension.

Piers Faccini (Great Britain)
A quiet big man of a global music scene
A cosmopolitan guy faces to current intolerant world with his motto: foreigners are our cousins. With his acoustic guitar, quietly, with an expressive voice and bilingualism he opens the doors of many cultures: he feel familiar with English folk music, Mississippi blues, Mediterranean music or epic stories of West African griots.
You will never get bored with his music – this is an impression of his last album Dreamed An Island – a dream about an imaginary island, where people live in a multicultural harmony, free from all fears of political manifestations, which cause fear, hate, xenophobia and nationalism.

Photo by Olivier Metzger.
CANZONIERE GRECANICO SALENTINO

PIERS FACCINI