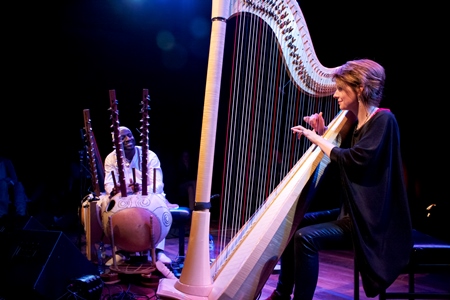 Catrin
Finch
&
Seckou
Keita
(Wales/Senegal)
A VIRTUOSIC DUO, WHICH HOVERS AS BIRDS THAT MEET AND SEPARATE
A HARP PLAYER FROM WALES AND A KORA PLAYER FROM SENEGAL HAVE A COMPASS, BUT THEY DON'T HAVE A MAP. THAT IS WHY THEIR MEETINGS ARE PURE JOY OF MIXING TWO ANCIENT TRADITIONS AND THEY ARE ALWAYS A BIG ADVENTURE AS WELL.
Catrin was a bit worried about spirituality and trance rhythms of kora at first, Seckou considered harp a conservative instrument. Since none of them expected much from an offer to perform together, they didn't even think about a project of their own, so that a result and a huge success was a nice surprise for both.
Seckou and Catrin separate musically as the birds, some of their pieces have Welsh beginning and Senegal ending and vice versa. In a ringing way, which is typical for harps, they create noble, but sparkling melodies and at the moment when the space is full of them, kora takes its part and sets the rhythm, so that there is no chance to be annoyed with new age or change the performance into the concert of classical music.
Seckou Keitu, a griot from Senegal region of Casamanche, who has been living in Great Britain for ages played on Folk Holidays 2016, when he performed with AKA Trio and a project Strings over the Oslava River.


Photos: Andy Morgan, Elizabeth Jaxon