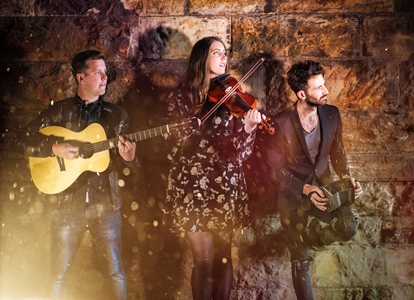 AN IMPRESSIVE AND EXCITING ACOUSTIC TRIO INSPIRED BY SCOTTISH, IRISH AND ENGLISH TRADITIONAL SONGS
THERE IS NO OTHER WAY, IF YOU WANT TO SOUND LIKE TALISK TRIO, YOU HAVE TO BE REALLY EXCELLENT MUSICIAN. OR EVEN BETTER. THEN YOU CAN WIN BBC RADIO 2 FOLK AWARD AS THEY DID, BUT ONLY IF YOU ARE NOT SCARED OF ADVENTURE.
Talisk create an image of a modern, impressive and exciting acoustic trio inspired by Scottish, Irish and English traditions, which need to be searched through and changed their own unique way. Travelling plays an important role in their music: a lot of ideas came up during their journeys through Europe, the United States and Canada.
We won't bother you with a phrase "you have never heard anything like this before", but you will wonder how this can be possible yourselves, mainly when watching Amini's fast fingers playing concetina. It is truly unbelievable and It's hard to think of another] and that has achieved so much and made such an impact on the traditional music scene in their first three years. They just keep piling the energy into the music, and it's energy that sweeps their audience right along with them.