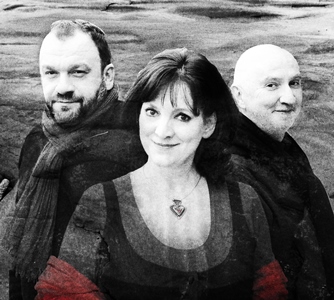 A singer who amazed the audience four years ago: during her gig, at colloquium and with her participation on Three voices project
Groove & Voice trio (Hungary)
Irén Lovász got an inspiration for her project Groove & Voice from studying spiritual and healing influences of Hungarian folk music. She awakens the energy of natural elements: ground, water, fire and air. She is sure, that people are scared of silence in vain, so that they lose the opportunity to listen to their inner voice. The inner voice then represents the fifth natural element, and, at the same time, a harmonic connection of all the elements in a man, the evidence, that sound and silence co-exist in natural harmony and singing has the power to heal.
On Folk holidays she will be accompanied by one of the best Hungarian percussion player Horváth Kornél, who is famous for his absolutely outstanding style and a respected partner of jazz stars. The trio is completed by a singer and a keyboard player Zoltán Mizsei, who mainly performs spiritual and renaissance music.

Elda Trio (Sweden/Slovenia/Brazil)
Northern mysticism, Brazilian temperament and a peaceful power of accordion
The biggest advantage of this trio is in its multi-culturalism: Emilia Mårtensson is a London based Swedish vocalist and composer, Brazilian percussionist Adriano Adewale and Slovenian accordionist, multiinstrumentalist & composer Janez Dovč. Elda trio weaves together these three different folkloric cultures exploring the breadth and depth of storytelling and music from each country. What emerges is a fascinating tapestry of musical cultures, featuring both traditional and contemporary musical elements in a unique way. Their technique, the emotion and the depth of their musicianship are of a very high level. The element of improvisation is a fundamental aspect of Elda Trio's music. It enables the group to express themselves freely taking into consideration the very moment of the performance as well as making every single concert exciting and unique.

Boi Akih & I Made Subandi (Netherlands/Bali)
Modernjazz, improvization and ancient Indonesian songs from the Molucca Islands in the haruku language
Boi Akih is a jazz/world music trio based in Amsterdam, Netherlands, composed of Monica Akihary on vocals, Niels Brouwer on guitar and prepared guitar, and a bass clarinet player Tobias Klein accompanied by I Made Subandi a gamelan composer
The group fuses musical traditions from the Molucca Islands, Bali, Dutch (European) jazz, improvised music, classical Indian music and traditional African music. Initially started as a duo, the music is written by Brouwer and the lyrics are written by Brouwer and Akihary. They are original and unique, because every concert is different. Monica sings in English but more in haruku language, which it the mother tongue of her father. During their concerts you are supposed to hear composed philosophy of love, which tells us a lot about emotions they put into their music.