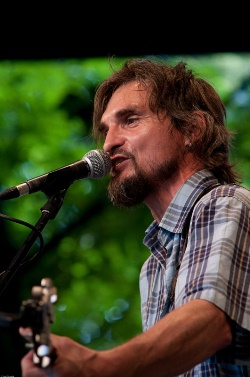 JARDA
SVOBODA
&
FRIENDS
OF
A
MAN
(CZ)
SONGS FROM THE ALBUM PŘITEL ČLOVĚKA (HUMAN'S FRIEND) AND FRIENDS OF JARDA SVOBODA
JARDA'S GOSPEL OR THE BIGGEST OF TRABAND, SONGS FROM THE ALBUM PŘÍTEL ČLOVĚKA (HUMAN'S FRIEND) AND OTHER SONGS.
There was no other album in 2007, which provoked so many discussions than the album Přítel člověka. Traband has been discussed not only by fans but also the public. The band has performed in nearly every club or festival in the country and they have made everyone dance. Surprisingly, after that they slowed down, Traband was suddenly quieter, music more peaceful, they formed a trio, winds were replaced the harmonium and questions appeared – where is the good old Traband? What kind of boring folk music is this? That superficial perception of the band was described by a journalist Ivan Hartman: "Everyone has listened to Traband, but only someone has heard it."
Human's friends is formed by: Jarda Svoboda, Fanda Holý – bass, banjo, Murat Adem Yilman – percussions, Marie Svobodová – autoharp, singer, Jana Kaplanová j.h. - flugelhorn, singer.