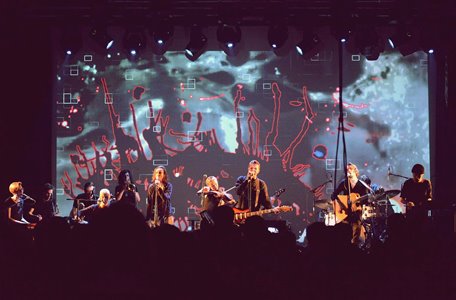 Both strong emotions and quiet folk reflections
Last year happened a lot in our music, however, one remarkable moment is the most important one. The moment when a musician Jakub König, since that time hidden in a mask of a chef Kittchen, came across "an unexpected feeling of anxiety, which he couldn't deal with" and a strange animal appeared nearby. The animal was named Autumn and it started to swallow the sun and blow the steam out and the things started to change. Jakub then recorded and album with "people, he meets while traveling around the country, people he admires and people he has ever wanted to cooperate". So that the enchanted songs appear. A personal time loop. Musical connection of melancholy and joy.
: Marie Kieslowski, Aid Kid, Tomáš Neuwerth, Tomáš Havlen, Marie Puttnerová, Terezie Kovalová, Ondřej Mataj, Veru Linhartová and a lot of those, "who want to be happy just for a moment", help Jakub to create strong emotions, giant post-rock chorus the same as quiet folk reflection.

Photo: Tereza Kunderová