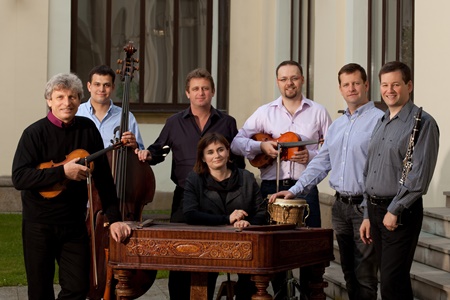 JIŘÍ
PAVLICA
&
HRADIŠŤAN
(CZECH
REPUBLIC)
A CONCERT CELEBRATING JAN SKÁCEL WHO WAS BORN 100 YEARS AGO
JIŘÍ PAVLICA AND HRADIŠŤAN ARE COMING BACK ON FOLK HOLIDAYS
A thought as sweet as his poetry: imagine Hradišťan playing in the park and a poet Jan Skácel sitting nearby under the tree, listening to the band and enjoying how Jiří Pavlica made music from his words. This year a poet Jan Skácel would be turning one hundred – he died on the 7th of November 1989, just before the end of communism, which sentenced him to be forgotten and made his life sorrowful.

"I am delighted that I was honoured to meet Skácel myself, work with him and use his poetry treasure for my music. I have tried to make music of different poetry, but it has never been such an easy and pleasant work. That poet is simply my destiny," said Jiří Pavlica in one of the interviews. Pavlica's sparkling modern melodies including classical topics, ancient hymns and art rock, intensified by choirs, the voice of Alice Holubová and Hradišťan accompanied by the keyboard, percussions and guitars are breaking the stereotype images of a cimbalom band and Moravian music. Something improbable came true – Moravian songs became radio hits.
Jiří Pavlica and Hradišťan are the ones to take charge of the poet's hundredth-anniversary celebration.