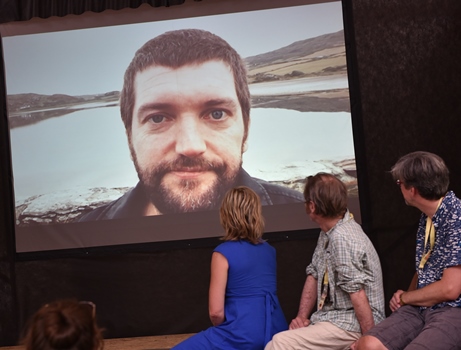 CZECH PREMIERE OF AN OUTSTANDING IRISH FILM
A CAPTIVATING FILM ABOUT FERGUS O'FARREL AWARDED WITH A LOT OF PRIZES
A captivating film awarded a lot of prizes, about an Irish singer, composer and musician Fergus O'Farrel, his band Interference and courage, which helped him to fight against his fate and serious disease that confined him to a wheelchair.
"Fergus' life is like a modern fairy-tale, nearly a love story," mentioned Michael Mc Cormack, a director, who will present the film on Folk holidays. He has been making the film for ten years. It begins in a singer's childhood when he was diagnosed with muscular dystrophy, then it continues with his music career and it captures the most important moments of the band Interference: a concert in Radio City Music Hall in New York and his journey to the Czech Republic including the performance on Folk holidays. Mc Cormack is funny, sad and emotional at once, but he also tries to find the answer to the question, that a serious disease is not an obstacle for a strong and determined artistic personality.

The Czech premiere of the film Breaking Out will take place on Friday the 29th of July 2022 at 11:00 p.m. in an Old Waving Shop in Náměšť nad Oslavou. The members of the band Interference will be present as well as the film director Michael McCormack. The film is with Czech subtitles thanks to the support of the Irish Film Institute, Culture Ireland, Arts Council Ireland and Michael McCormack himself.
Photo: Kamila Berndorffová.