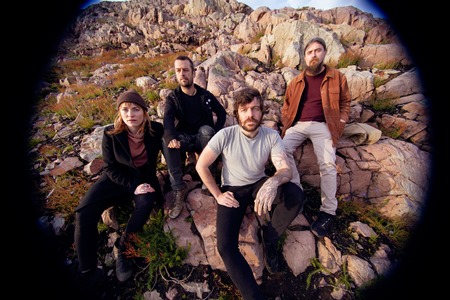 BREATH-TAKING SOUND OF IRISH BACK PIPES, VOCALS, CONCERTINA AND FIDDLES
RESUME OF EXPERTS AND A NUMBER OF SURVEYS GIVE CLEAR RESULTS: THE BAND LANKUM IS THE BEST WHAT YOU CAN HAVE FROM IRISH TRADITIONAL MUSIC.
The acoustic quartet from Dublin forms traditional music the way that is strongly needed today: look carefully what is happening around. Depression is combined with the hope, but not the way you would expect from folk musicians. An accordionist and singer Radie Peat, a fiddler Cormac MacDiarmada and two brothers – a guitarist Daragh Lynch and a back pipe player Ian Lynch –put into ancient music something you would never expect. Their bitter sweet manifesto is a timeless transcendental experience. All surrounded by choir vocal harmonies reminding the legends The Watersons.


Lankum give the author and folk songs – Irish, Scottish, English but also American ones – punk feeling. Tradition is not a genre for them, but it is a continual process reflecting present: they remake ancient songs their way and they compose new pieces with the will that present is a result of the past. And it is clear that Lankum are not stuck in the past at all.