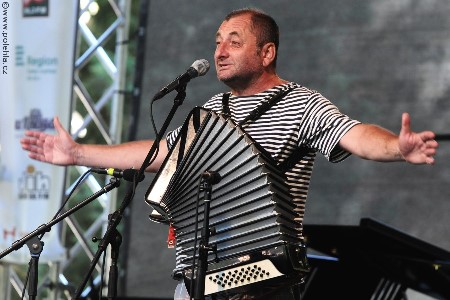 SONGWRITER, CLOWN, ACTOR, FILMMAKER, WRITER, STORYTELLER AND TRAMP
WALKING AMONG PEOPLE HE MAKES FUN OF EVERYTHING HE HAS LEARNT FROM THEM.
Songwriter, clown, actor, filmmaker, writer, storyteller and tramp. Walking among people he makes fun of everything he has learned from them. People of his age are usually retired, but it is not true about Václav. In Chotěmice in South Bohemia he has his Village club, where he invites all supporters of non-commercial music and he travels around the world. He is too busy to record albums or publish books more often, but his concerts are always full of surprises. On Folk Holidays he will perform in a traditional trio with a guitarist Jan Ponocný, saxophone player Jaroslav Jeřábek, but newly with a drummer David Landstof. So that it is worth coming.

Photo: Jiří Polehla