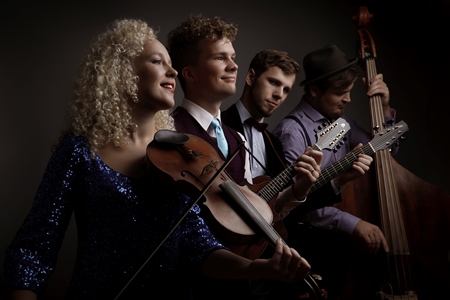 UNIQUE COMBINATION OF ESTONIAN POETRY AND TRADITION WITH AMERICAN BLUEGRASS
THEY SEEM TO PLAY AMERICAN BLUEGRASS, BUT THEY COME FROM ESTONIA SO THAT THEY PERFORM MELODIC BALTIGRASS, THIS IS HOW THEIR MUSIC COULD BE CALLED.
You might think that Estonian bluegrass will sound just like bluegrass from Estonia because no one had heard about any bluegrass from Estonia till Curly Strings appeared. Neither had Estonians so that when the band released their debut album Üle ilma in 2015, they were so excited that the album was awarded all possible music awards. They are also respected abroad: there was truly a reason why they won European Bluegrass Award.
Musicians from Curly Strings play the double bass, guitar, and mandolin, they sing in their mother tongue and their trademark is solo and choir vocals, when you once listen to their gentle melodies inspired by Estonian traditions, you will always recognize them.


And what is more: the band has used the covid time working on their new album with positive mood Festivites Within, which will be introduced on Folk Holidays.
Photo: Kroot Tarkmeel