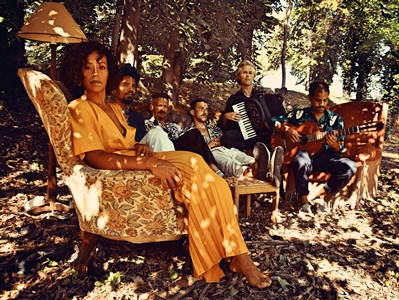 SPLENDID DANCING MUSIC OBSERVED BY THE GOD OF DRUMMING
BRAZILIAN SINGER WHO HUGS PEOPLE WITH MUSIC, WHICH MAKES YOU FEEL GOOD
If we want to find an example of how to spread positive feelings and not avoid topics such as human rights, emigration and protest against everything evil, it will be represented by Ayom. The band led by a Brazilian singer and drummer Jabu Morales, symbolizes a free woman, breaking the borders of everything she does and looking for a place, where people accept her the way she is. She moved from Brazil to Barcelona fourteen years ago due to personal reasons. No matter whether you don't understand her Portuguese or Creole, the most important of her message is understandable for everyone.

She created the band with five musicians from Greece, Anglola, Italy and Portugal. There was only one condition: each of them had to carry a bit of Arica inside because you can hardly make an African from a European person. When listening to Ayom you can hear the music from Brazil, Angola, Congo, Cape Verde or the Mediterranean, but where this music comes from is not important at all. It's just the splendid feeling that matters.
Photo: Gianni Ugolini.