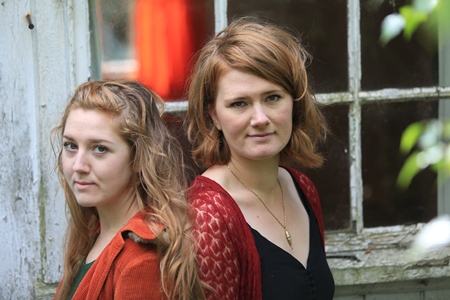 THE
RHEINGANS
SISTERS
(GREAT
BRITAIN)
THE FASCINATING BRITISH DUO OF SINGERS AND FIDDLERS
FIDDLE-SINGERS AND COMPOSERS FOLLOW THE RULE SAYING WHAT IS YOURS WILL NEVER LEAVE YOU. THIS IS REPRESENTED BY THEIR MUSIC, WHICH IS EXTRAORDINARY.
Anna and Rowan grew up in the village of Gridleford in Derbyshire. Most of their instruments, which are fiddle, banjo, tambourine à cordes and bansitarp were made by their father, while their mother led the kids' dance courses. Parents encouraged them to make music and they found their way. First, they spent a significant amount of time studying fiddle music in Sweden and Norway, then Anna settled in Toulouse and gained a diploma from the Conservatoire de Toulouse in France, she became an expert in southern French folk music. Rowan's rich career includes work in a popular vocal trio Lady Maisery as well as being a part of the project Songs of Separation with Eliza Carthy and Karine Polwart, she also worked with Nancy Kerr and The Sweet Visitor Band and she created a theatre one-woman show Dispatches on the Red Dress.

Their rich careers might raise the question whether the music of The Rheingans Sisters still represents their English origins, but the answer is clear: this is with no doubt their innovative way of making music that the British folk scene of today needs.
It is not necessary to remind you: The Rheingans Sisters are extraordinary.
Photo by James Fagan