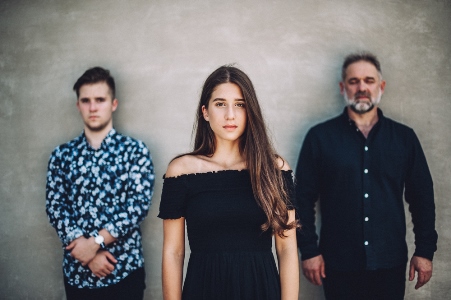 POLISH FAMILY TRIO PERFORMING TRADITIONAL JOYFUL MAZURKAS
ORIGINAL PERFORMANCE OF CARPATHIAN FOLK MUSIC .
"We don't play traditional music, we are tradition," say the members of this family trio from Polish Low Beskydy region.
The trio attracts not only by their interpretation of traditional tunes and performance of Carpathian music, but it is also the mastership of the young members, the children: Kacper (fiddle) was nineteen and Zuzanna (cello, drum, vocals) was only fourteen when they joined the band. They were appreciated by the listeners of Womex as well as the audience of the famous British festival Womad.


The Malisz family lives far from the centre in a small village Męcina Mała. A founder of the band Jan Malisz, who is also a composer, makes musical instruments. Jan Malisz's father, Józef, worked as a wedding fiddler as far back as the 1930s. He passed on his music playing skills, as well as his instrument, to Jan. Józef also gave his son some lessons in accordion and mandolin, so they call their music "father's notes".