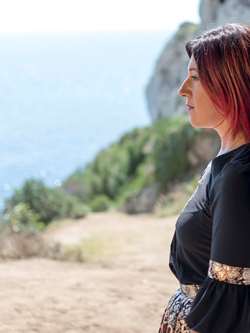 ITALIAN SINGER, WHO CAN MAKE THE HARDEST STONE CRY
IN HER UNBELIEVABLY EMOTIVE VOICE YOU CAN FIND SORROW, PASSION, LOVE AND HOPE.
An Italian singer, who can make the hardest stone cry.
Maria has sorrow, passion, love and hope in her unbelievably emotive voice. You can remember her from the performance on Folk Holidays with the world-famous Canzoniere Grecanico Salentino, where she proved to be one of the best European singers. Maria comes from the region of Salento, the birthplace of trance music pizzica, so that she can play the frame drum very well. She performed in Canzionere till 2015, after that she discovered the magic of vocal traditions connected with Balkan, Eastern Europe, Greece and India.


Songs from the album Amoreamaro will be accompanied by an excellent Italian accordionist Antonino De Luca.
Photo: Giulio Rugge