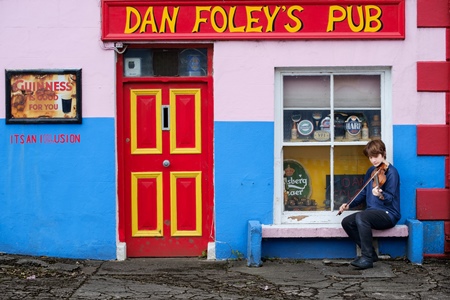 RYAN
YOUNG
(GREAT
BRITAIN)
WORDLESS POETRY
A FIDDLER WHO BELIEVES THAT PLAYING THROUGH YOUR HEART IS EVERYTHING THAT MATTERS
Ryan Young's violin sound is very distinctive and he always manages to take the listener on an adventurous and emotional journey in any performance. No one knows where his mastership comes from and no one has ever asked. But one thing is clear enough: this thirty-one years old fiddler performs traditional Scottish music.

Ryan plays slow, lyrical tunes as well as explosive pieces. He sometimes performs on his own, but his most famous performances were with one of the best Scottish guitarists Jenn Butterworth. On Folk holidays he will present his performance with another outstanding guitarist and flute player, David Foley, a member of a well-known Scottish band RURA, which used to play on Folk holidays three years ago.
Photo by Roddy Martine.