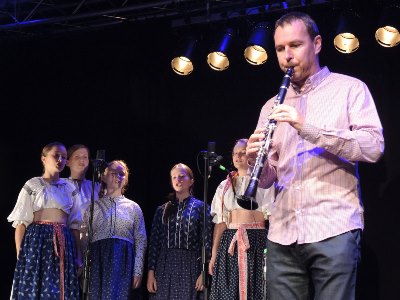 CLARINET
FACTORY
&
GRUNIK
(CZ)
THE MOST ORIGINAL QUARTET OF CLARINETISTS WITH GRUNIK CHOIR
SOMETHING BETWEEN CONTEMPORARY AND CLASSICAL MUSIC, JAZZ, ELECTRONICS, AND MORAVIAN FOLK TRADITION.
Such an original quartet of clarinettist is hard to find not only in our country but maybe, all around Europe.
They have been performing for twenty years as a unique musical formation. They are somewhere between contemporary and classical music, jazz, electronics, and multi-genre projects. In 2017 they invited a choir Grunik to their album Meadows to touch also a Moravian folk tradition.
It takes some time to get oriented in their borderless musical space, but the first thing you should forget is that their performance will be all about clarinets. Clarinet Factory breaks the borders by using loopers and studio effects. No matter Jindřich Pavliš, Luděk Boura, Vojtěch Nýdl, and Petr Valášek have their roots in classical music, they don't play much of it, and if so, it mingles with jazz, electronics, ambient, minimalism, and folk.


Clarinet Factory sings in English, Czech, and Spanish and their poetic, environmentally oriented lyrics provide also their opinion. Their relation to nature is emphasized by inviting the choir Grunik from Ostravice, the region connected with the Beskydy mountains, their beauty, and music.
Photo: Daily-D