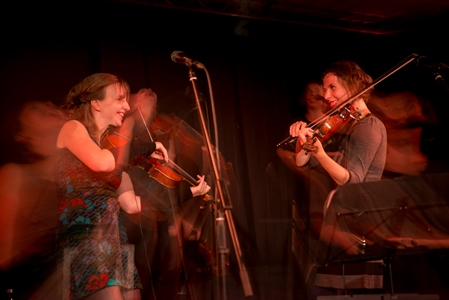 FOLK
HOLIDAYS
ORCHESTRA
(GERMANY,
CZ)
THE BIG FESTIVAL ORCHESTRA WILL PLAY FOR THE FIRST TIME
A DREAM COME TRUE.
Three leaders Vivien Zeller (DE), Ursula Suchanek (DE) and Martin Krajíček (CZ) will prepare Folk Holidays Orchestra, which member will be amatuers and proffesionals.


Vivien and Ursula write:
Music is life. Music is community. Music is celebration. When people play and sing together, they create something unique, something that can be felt both among themselves and from the outside. For so many years Folk Holidays has created a space in which this is happening every day for a whole week, were you can bathe in music and community and celebrate. With the Folk Orchestra, we now want to celebrate the festival's 35th anniversary and all the unforgettable great moments we've had here. Among the loyal visitors of Folk Holidays, there are uncountably many gifted musicians – and now they have the chance to come together and play with some of the great personalities that they've watched on stage for years. For one week, they meet every day and work on a concert program to perform on stage, under the direction of Martin Krajíček, Vivien Zeller and Ursula Suchanek. This idea, to create a festival orchestra that is shining of the spirit of coming together and creating music in the moment – has been a dream of Jitka Šuranská, who ever so indispensably enriched Folk Holidays with her bright character and her infinite beautiful musicality. Now this dream comes true and the Folk Holiday Orchestra will live through music, community and celebration.
Photo (Vivien Zeller & Ursula Suchanek) : Torsten Stapel