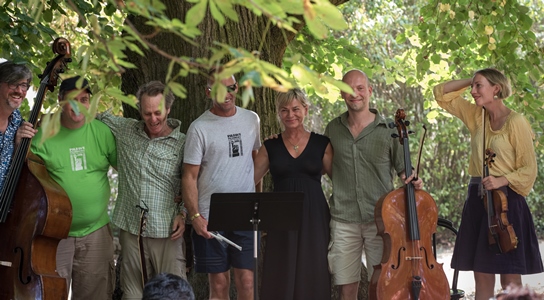 FRIENDS OF FERGUS O´FARRELL AND THEIR SPECTACULAR GIG WILL END THE FESTIVAL
LEGENDARY IRISH BAND FOREVER CONNECTED WITH FOLK HOLIDAYS
The truly legendary band has never given up, although its destiny wasn't to be famous, which is quite unfair. The Interference was the band that overtook time in the 90s. Its soul was a singer and a composer Fergus O'Farrell who is considered one of the most remarkable talents born in Ireland. He passed away in February 2016 not even fifty years old and in the air he left his message from his famous song Gold: "Hell I'm gonna be me. I'm gonna be free."

The serious disease had been tripping his legs all his life and although he knew that he could day the other day, he wasn't scared of death. He trusted his music and friends, who would have breathed for him, which could be seen in an emotional scene from the film Breaking Out, where Glen Hansard looks like breathing with him through the rubber hose when recording the album "The Sweet Spot". Every breath he takes gives O'Farrell sitting in his wheelchair the power to finish the song. If this is not pure friendship, then nothing else is. They are on their tour with the film Breaking Out: James O'Leary (guitar), Camilla Griehsel (singer), Paul Tiernan (singer, guitar), Maurice Seezer (singer, keyboard), John Fitzgerald (bass guitar, singer), Cal McCarthy (percussions), Anthony Noonan (singer, percussions, guitar), Bertrand Galen (violoncello) a Marja Gaynor (violin).
Photo: Kamila Berndorffová.