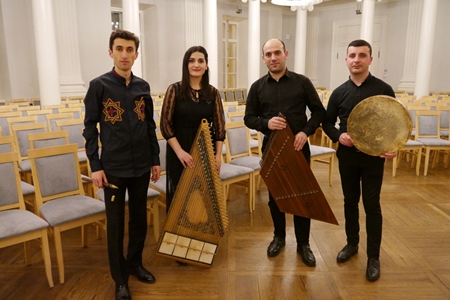 ARSEN
PETROSYAN
QUARTET
(ARMENIA)
ARMENIAN DUDUK – MUSIC THAT CANNOT BE CATHEGORISED
MASTER OF DUDUK – ANCIENT WIND MUSICAL INSTRUMENT, WHICH IS SAID TO EVOKE THE SOUND OF HUMAN SOUL.
CONCERT: MONDAY 26TH JULY AFTER 11PM AT OLD VEAWING HALL
Arsen Petrosyan finished his album Hokin Janapar (My Souls Journey) last year, at that time when the bloody Armenian- Azerbaijani conflict started again. Since it is said that duduk makes the most beautiful sound when you put your soul inside, we listen to the music, which cannot be categorised. Petrosyan is inspired by famous Armenian composers, village traditions, but also from neighbour countries so that he is accompanied by a zither quanun player Astghik Snetsunts, percussions player Avetis Keoseyan and a cimbalom santur virtuoso Vladimir Papikyan.


Despite his age – he was born in 1994 –Petrosyan has become famous all over the world. He received his Masters Degree in Music, his mentor was a famous master Gevorg Dabaghyan, he became a soloist of the Armenian national ensemble of traditional music. Besides his ensembles, he also performs in the international AGA Trio, and he is considered one of the most distinctive performers of his generation.
Photo: on the list performers - Lyuda Avagyan, on this page - Dimitri Dubinin