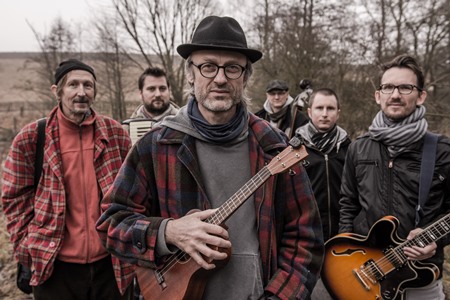 A SONGWRITER WITH ACCORDION AND HIS BAND INCLUDING VLADIMÍR JAVORSKÝ
WITH NEW SONGS, NOT SCARED TO EXPRESS BIG FEELINGS.
Miroslav Kemel is a cartoonist and caricaturist, who has low respect for politicians. Mirek Kemel, then, is a popular songwriter with an accordion.
His personally oriented lyrics are close to chanson, to the songs, where big feelings should be expressed. He thinks that everyone should feel free to express his feelings – joy, anger, fear, sadness, they are an eternal part of us and bottling them up leads to our self-destruction.
"Kemel is connected with chanson not only by accordion but also pathos in his singing. Yet it's pathos in a positive meaning of this word, like by Brel. And also the fact that he is not afraid to use words and phrases that might be difficult to say, but Kemel sounds natural and authentic, " wrote Ondřej Bezr, the musical publicist, in his review on Kemel's previous album Nic víc (Nothing more).


And since it was produced by an actor, saxophonist and a regular visitor of the festival Vladimír Javorský, be sure to meet him on the stage next to Mirek Kemel as well.
Photo: Jiří Zerzáň