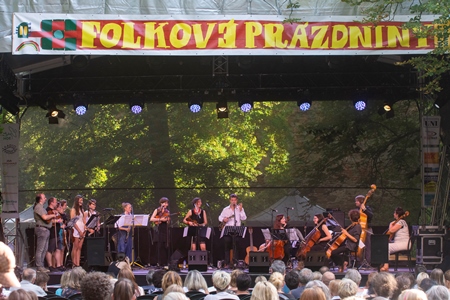 BIG FESTIVAL ORCHESTRA FOR THE SECOND TIME


WHEN THE DREAMS COME TRUE, THIS YEAR WITH THE IRISH MUSIC
Music school is an advantage, big talent is better, but don't worry there is no exam needed. It sounds like a challenge; although you might be scared of the
word orchestra. It's a bit too official, one might expect a conductor and professional musicians on the stage. Or from a different point of view, some
people expected a band of enthusiastic kids playing for their parents in the audience. To be honest you can expect a bit of everything.

You will be practicing a lot, no doubt, but what is more important is the spirit that surprised everyone last year. Leaders or "conductors", as well as performers,
are German fiddlers Vivien Zeller and Ursula Suchanek and Martin Krajíček. This year they will be cooperating with Marja Gaynor a violinist from the
Interference so that all talented musicians – no matter if kids or adults – will play a little bit of Irish music as well. Be sure that it doesn't need to be perfect,
but it needs to touch people in the audience, because "Music is life. Music is friendship. Music is a celebration".

Photo:
(Vivien Zeller & Ursula Suchanek) : Torsten Stapel
(Orchestr Folkových prázdnin 2021): Jiří Polehla