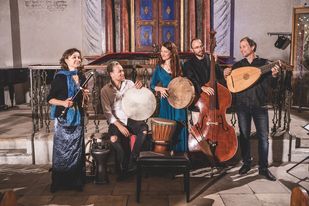 SEPHARDIC SONGS AND THEIR BEAUTY FOREVER.
SEPHARDIC SONGS THAT COME FROM HEARTS WITH MUSICAL VIRTUOSITY.
It's a well-known fact and we have heard them on Folk holidays many; a singer Eliška Tesařová, a percussion player Marta Kratochvílová, a lute and guitar player Jan Čižmář and a singer and double bass player Marian Friedl this time come with the songs with the same topic – love. Besides deeply emotional Sephardic songs you will hear similar music inspired by the Mediterranean.