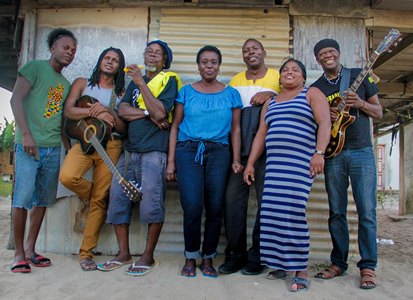 THE
GARIFUNA
COLLECTIVE
(BELIZE)
AFRICAN RHYTHMS, CUBAN SON AND AMERICAN BLUES AT ONCE
THIS MUSIC DOESN'T ASK YOU TO DANCE: IT MAKES YOU DANCE WITHOUT ASKING. BOTH SLIGHTLY AND SPONTANEOUSLY.
The album Watina recorded by Andy Palacio and produced by Ivan Duran is pure essence of Garifuna traditional music in a modern arrangement: it's in the original language and reminds
us of ancient partly forgotten healing dances, a cappella sung prayers, love and work songs recorded in cooperationwith multigenerational all-stars bandthis album and a few months afterthat, in January 2008, he died of a heart attack.
The collective of musicians from across different generations, with a dynamic that comes from playing and traveling the world together, sharing their music and stories, with guitars, wooden drums and percussions made from turtle's shells creates the performances that reflect Garifuna culture and joy of performing together.Everyone is welcome to join: with your voice, clapping, or an instrument.
The last album Aban faces the future: vibrates with the electric guitars, dub and blues-style reggae, which is the realm of a singer Emilio Thomas. You can hear it for example in the piece Hamala (Let Him Fly), which was, as he says, created from his dream, which is typical for Garifuna musicians. It is about the power of community, which is essential for those who want to travel the world. Let us dream and fly. This is the message of the Garifuna people to the world for they are scared that their culture might vanish one day.
Photo:- autor Jeremy Lewis.